Press & Testimonials

Press

There are a number of mentions of Boursot's Wine Collection on internet blogs and locally produced publications. Here are a few of the nationally published articles.

Destination France - Summer 2011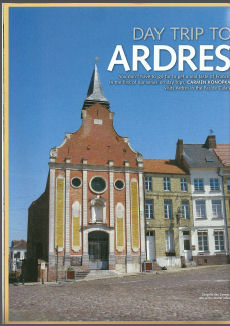 click to see .pdf
The Guardian - October 2010
http://www.guardian.co.uk/theguardian/2010/oct/22/simon-hoggart-week-wayne-rooney
Living France magazine - August 2009
Living France magazine - August 2009
Wealden Times - March 2009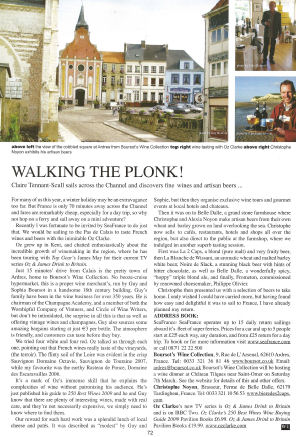 Guardian article November 2008
Guardian article 01-Nov-2008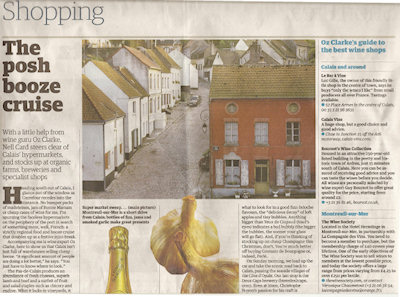 Guardian-article-01-Nov-2008.pdf
Aspect Country magazine - October 2008
http://www.aspect-county.co.uk/october/#/39/
The Guardian - February 2007
http://www.guardian.co.uk/business/2007/feb/18/theobserver.observerbusiness10
---
Testimonials
It is so rewarding when you write in to tell us your thoughts. Here is a selection of some of your unedited compliments:-
"Thank-you so much for a fantastic tasting last night - you were on great form and kept us all thoroughly entertained, even managing to tame the rowdy ones who were hanging on to every word by the end of the evening! No mean feat! A truely delightful, entertaining and informative evening with some interesting wines as well."" ST - April 2014
"Your presentation on Monday was a triumph and a great hit with members. Thank you so much for coming all the way across (or under) the icy Channel to give it. We had never done anything like it before and you could see how much everyone enjoyed it. You wear your expertise so lightly that I don't think it was until much later that people realised how much they had learned from the evening. Thank you very much." The Silver Society - December 2010
"via an internet search where I could find in the UK the identical wines that you stock, by buying from you we saved at least £5 per bottle and that's based upon the current awful exchange rate." (JM).
"It was very nice to meet you yesterday and to discover such a super cave. We will never again make the mistake of going to Majestic before you!" (DC)
"…we enjoyed coming to your lovely shop, tasting a few wines followed by lunch (how does Le Relais manage 3 courses at 13 euros?). I calculated we saved ourselves at least £400 but more than that we enjoyed the experience and it was a good change from all the dreary news back home." (CW)
"With regard to the newsletter, you say it is unfashionably verbose, I totally disagree, and spend a couple of very happy hours browsing through the links as well. It certainly lifts my spirits on a really dull day here in Nottingham, long may it continue! Whilst writing, I would just like to add that the wines we had from you last year, and also in 2007 were all exceptional and I will be looking to replace my stocks in the near future. " (CC)
"Of course the high spot was the dinner on Saturday, with a delicious menu and fine selection of wines, much enhanced by M. Bouchard's enthusiastic and fascinating commentary." (TM)
"just to thank you for reccomending the excellent Champagne, the Cremant de Bourgogne and the Petit Pont Rouge.All were much praised. We told every one where they had come from." (EC)
"PS had a couple of bottles of Brouilly on Sunday magnificent!" (AK)
"Everyone really enjoyed your talk and the wine was polished off very well in the minibus back! We all loved the Taverne de Kate too and we could happily have stayed there all day!" (JS)
"I can't believe that the two wines I have bought most of over the recent years we've done business are the Domaine Octavie Sauvignon Blanc and the Rasteau Oz Clarke raves about!!" (AP)
" Thought I would just say thank you for what is a magnificent wine at the price. Well at any price. I wandered into your shop last Saturday with my son and his friend .Friend was buying wine for mum and dad. We found upon you by pure chance. We got lost. Anyway the Chateau Marie du Fou is superb. I know my wines a little. No particular purpose to e mail but your prices and taste are something not seen by me before. " (TM)
"We did a 'taste test' on the St Reol Champagne and everyone agreed it was better than Veuve, AND Joseph Perrier." (AN)
"I would congratulate you on the quality and content of your newsletters." (CJ)
"I like your wines and I like the service that we get from you" (DA)
"Thank you so much for doing the tasting - I have had many very positive comments about the evening." (HB)
"Great time yesterday. Thanks for all your hard work into making the event so welcoming and friendly." (PW)
"This is just to say how worthwhile the purchase was! We both enjoyed it and think it outstanding value." (RA)
"Many thanks also for the time you spent with wife and I on Wednesday selecting and tasting wines. We have tried a few already and they are delicious." (NM)
"A while back I bought a couple of bottles of Domaine des Escaravailles, Rasteau from you and have only recently got round to opening one. It's yummy," (CS)
"Just a note to tell you how well the wines you sold us for our daughter's wedding in August went down (Sancerre Franck Millet and Morgon Comte de la Poype). They were both very well received." (KN)
"Ardres was also a revelation - it could become a regular stopping point on our trips down to Burgundy." (JE)
"Firstly, I must say how much I enjoyed my 60th birthday event in Ardres last week, and I must sincerely thank you for all the hard work you put in on my behalf to make it special. The combination of fine food & wine, and a short break "off the beaten track" in France (with the fascinating underground sightseeing tour thrown in too), made it a memorable occasion for us all. Please convey my thanks to Le Clement too, for their help and flexibility. I could not have organised it this way without your help - thank you once more. I am sure we will see you again before long - maybe at one of your gourmet dinners. P.S: Feel free you use this as a testimonial - it is well deserved !." (MM)
"We're the friends of R and C, and came to Ardres for the meal and Christmas Fair, which we thought was absolutely fantastic. Thank you so much for your kind hospitality, it was such a wonderful meal, with super wines, elegantly run, and with charming people. We definitely want to come next year! We had a few cases from you for the festive period and without exception the wines were very good. Exactly matching the food, and not one disappointment amongst them. It really made our Christmas. You undersell yourself, Sir!!!! So, here's to our meeting again, and we wish you all you wish for yourselves for 2010." (PC)
Enough said?